MY VOTE FOR THE GREATEST
TEAM OF ALL TIME
This Ballot By ~ Bobby Davis
COMMENTS:
I can only really speak of the players over the past 12 years that I played with or against. I'll give you that, howvever I'm sure I would be missing many exceptional players from the past. So I'm not asking anyone to agree with me this is just what i've seen.
1. Best Hitter - John Wood - Five tool player, most likey the best all- around player over the past 12 years.
2.Best Pitcher - Tough call between Rich Nottis, Mike Martin and Marc Alicea -
Nottis may very well have have the best win percentage of the three, however put a defense behind Martin and he can beat anyone. Marc Alicea Won 3 championships with A2 as almost won a championship with a mediocre but young Picayune team.
3.Best Infielder -Dan Schissler - As much as it hurts me to say it (Since we played the same position) plus made himself versatile since he plays a pretty good shortstop.
4.Best Outfielder - No questions asked John Wood,honestly I don't care what era you would be discussing. Nobody can cover the ground that he does.
5. Best Catcher - John Hoesle from the Leps, I understand everything that Billy Wilcox has done for this league on and off the field, but Hoesle would bat over .500 knock in runs, Not as fast as John Wood but pretty close. Also picked off an unbelievable amount of runners from all bases.
6. Best arm - Depends how you look at it Outfield Dave Spencer had a strong accurate arm, Gil Newton Jr. has a cannon, tough to say since different positions require different types of arms.
7. Fastest Runner - John Wood, No comparisons
8.The Best Player - I know the consensus would say Donald Doughrerty, however I never had the oppurtunity or pleasure that I can recall to see or play against Donald (I've heard he was phenomonal) My era once again John Wood
9. Best Coach would have to be Joe Joe or Markley once again over the past 12 years
. 10. Best team - I would like to say our 21-1 Leps team however due to the circumstances I can't....I guess I have to say, even though it hurts me to say it A2.
---
This Ballot By ~ Bill Mac
BEST HITTER - DONALD DOUGHERTY
BEST PITCHER - JOHN REBEL
BEST INFIELDER - DANNY SHISSLER
BEST OUTFIELDER - JOHN WOOD
BEST CATCHER - BILLY WILCOX
BEST ARM - MIKE PREM
F. RUNNER - JOHN WOOD
BEST PLAYER - DONALD DOUGHERTY
COACH - JIMMY DIAMOND
BEST TEAM - ANTHONY'S CAFE - 1990'S
COMMENTS:
ANTHONY;S CAFE HAD A FEW GOOD TEAMS IN THE 90'S - I AM SURE THERE ARE A FEW OTHER PEOPLE THAT ARE WORTH CONSIDERING FOR INFIELD/OUTFIELD - LIKE BILL GASSMAN, TOM DIXON, PAT HART FOR INFIELD THEN YOU HAVE A FEW OTHER FOR OUTFIELD BUT IN MY MIND WOODY AND SHISSLER BOTH DESERVE THESE CHOICES
---
This Ballot By ~ Jack Moore
1. THE BEST HITTER ____Donald Dougherty___________
2. THE BEST PITCHER_____Bob Mc Gee______________
3. THE BEST INFIELDER______Danny Shissler Jr._______
4. THE BEST OUTFIELDER ___Jr. Barez_________________
5. THE BEST CATCHER_____John Hoesle______________
6. THE BEST ARM_______John Wood__________________
7. THE FASTEST RUNNER______Rich Dougherty_________
8. THE BEST PLAYER_____Donald Dougherty_________
9. THE BEST COACH_____Jim Diamond___________________
10. THE BEST TEAM OF ALL TIME___Kelly's Happy Tap________
COMMENTS:
1. Don Dougherty was flat out hands down the best of the best. He was so good that is still stands above all other players even today.
2.Bob Mc Gee won three no hitters and also pitched two or three one hitters. He pitched just about every team he played with to the championship.
3. Over the years there have been so many really good infielders. But Danny is the best I have ever seen.
4.When you talk about picking just one outfielded its just to hard to do with the likes of a Donald Dougherty or a John Wood and so many others that were outstanding out there. But Jr. Barez was all over the field and would make plays you had to be there to see. As there is no way to explain this exceptional player
5. Well there was Bob Herky that picked off some 30 players in his last season I don't remember any catcher doing that. Eddie Hepworth was one of the best for many years. And there is Billy Wilcox he can throw with the best of them and is one of the best leaders on any team that you could ever have. But John Hoesle was the total catcher he had one of the quickest releases and an arm like a cannon. One of the fastest runners i have ever seen for a catcher in this league. And he could also hit.
6. This one was very hard to call Donald Dougherty and Jr, Barez had some of the best arms you could ever ask for in an outfield. But in this case I have to give the edge to John he has always been very accurate from any part of the field with a powerful arm to back him up.
7. Speed you have to remember Bobby Seeds and yes John Wood. Richie Dougherty was like a deer as fast as lightning I really don't think that there has ever been a player in this league as fast as Richie in his prime. I know I have never seen one!
8. Without any doubt at all it was Donald Dougherty he stands alone. He was not only the best that ever played here in Fishtown but something that very few know teams from all over the City would come to Hetzells to watch him play then ask Donald at the end of every season to play with them the next year. But he always stayed and played right here where he grew up.
9. There have been many very good coaches over our many years "Strings", Lippy Groves, David Doughery, Bobby Markley, Joey Zysk, Joe Regan. But this guy was the best Jimmy never played around you better come to play or else. He was very lowed keyed and most of the time a quiet man. But don't up set him with not hustling to a base. Or you would know who was the coaching this team. His record stands alone he has won more championships then any other coach in this leagues history (eight or nine).
10. This was a team that no team could beat no matter how many good players you had or could get for the team for the next season. As Jr. Barze said we only won one time because no one could best them. Over a ten year period this team had it all pitching home run hitters and the rest of the team just a great bunch of guys that could really hit and hit and hit. We have asked so many people about the number of championships that they won. Some say "they won so many it could be as many as ten" We will go with the most realistic number of eight that we know they won. There has never again been a team as good as Kelly's.
---
This Ballot By Bill Timmey
1. THE BEST HITTER ______________Woody__________________
2. THE BEST PITCHER_____Mikey Martin___________________________
3. THE BEST INFIELDER______Danny shissler.. no one else _________
4. THE BEST OUTFIELDER ________John Wood without a doubt no one close _________
5. THE BEST CATCHER______Wilcox on leadership alone________
6. THE BEST ARM____________No Vote_________________________
7. THE FASTEST RUNNER___________John Wood another no doubt________
8. THE BEST PLAYER____________John Wood ___________
9. THE BEST COACH________No Vote_______
10. THE BEST TEAM OF ALL TIME____________Anthonys (jojo's team/A2____
---
This Ballot By R.D.
HITTER - DONALD DOUGHERTY
PICTHER - BOB MCGEE
INFIELDER - DAN SHISSLER
OUTFIELD - JOHN WOOD
CATCHER - BILL WILCOX
ARM - MIKE PREM
F. RUNNER - RICH DOUGHERTY
PLAYER - D. DOUGHERTY
COACH - JIM DIAMOND
TEAM - A-2 (TEAM OF THE 90'S)
COMMENTS:
There have been alot of goiod pitchers over the years but McGee in his prime was no doubt the best.
Another NO DOUBTER is Shissler at 3rd. - I have seen alot of players come and go in this league but never has someone played defense like Danny - no brainer!
Again - there are alot of people that you could argue for this position but Woddy gets my vote but to be honest R.Dougherty comes a real close second for his pure out hustle game after game, the guy would run thru a wall to catch a ball.
Wilcox really deserves this one - no one better at handling his pitchers and controlling the field.
You can make a case for Spencer for Strongest arm but the guy only played in the league for about 3 years, Mike Prem not only had a great arm but every throw was on-line.
I would have to say the A-2 team of the 90's had to be the best team ever. Sure they did not have the best bunch of athletes but they knew how to play the game.
---
This Ballot By #20
Best Hitter........ Don Dougherty
Best Pitcher....... Bob McGee
Best Infield....... Danny Shissler
Best Outfield...... John Woody
Best Catcher....... Billy Wilcox
Best Arm...........
Fastest Runner..... Richie Dougherty
Best Player........ Don Dougherty
Best Coach.........
Best Team.......... Anthony's Cafe
COMMENTS:
I feel as though Don Dougherty is tops in both hitter and player over the years - sure there have been some great hitters but have now a days they need juiced bats - Don hit bombs with wooden bats!!!
Nobody better than "Mr. Ben-Gay" himslef - Bob McGee. He kept that company in business himself!
The "Human-Vacuum" - Dan Shissler is without no doubt the best infielder to ever play in this league. Has made some unbelievalbe plays over the years.
John "Chipper" Woody - covered the ground better than anyone and had a pretty decent arm to go along with the speed.
"Mr. Leadership" - was the backbone of the A-2 teams that dominated the past few years as well as the previous teams he has played for like Days Pub.
"Mr. Blue-Jeans" Rich Dougherty was even quick wearing dirty jeans to play the outfield - imagine if wore shorts how quick he's be.
You can probable come up with alot of teams that were more talented that those Anthony's Cafe teams that Joey Zysk put together but talent does not win Championships - defense and playing as a team does and those teams had them both!!
---
This Ballot By Frank M.
1. Best hitter Donald Doc, there was plenty though, Tom Slev,Werner.
2. Best Pitcher Bobby Mcgee, two others Chris Smith and Mike Martin.
3. Best Infielder Tom Dixon, Schissler close second.
4. Best Outfielder Jr. Baez, there is plenty more Wood,Denight,Prem,Markley
5.Best Catcher Bill Wilcox.
6.Best Arm Jr. Baez and two others Dave Spencer, Wood.
7. Fastest Runner Wood.
8. Best Player Donald Doc, there is plenty here as well, Wood, Markley, Prem, Tom Slev, Halloway, Gilbert,Mcgee
9. Best Coach Diamond
10. Best Team Happy Tap, most championships.
---
This Ballot By Jimmy
COMMENTS:
HITTER - DONALD DOUGHERTY - I would make a case for Werner but Donald played in the days of wood bats and dead balls not double walls and juiced balls.
PITCHER - BOB MCGHEE - if Chris Smith was able to play more years I am sure he would be hands down the best pitcher to play in this league.
INFIELDER - DAN SHISSLER - probably the easiest selection of all positions. There were games where teams made sure not to hit it to 3rd - a lock for the Hall of Fame.
OUTFIELD - RICH DOUGHERTY - the guy was a scrapper would do whatever it took to make a catch. Woody is a close second.
CATCHER - BILL WILCOX - many other worth considering but Billy has played in this league a very long time and has been consistent year after year.
F.RUNNER - WOODY - could make a case for R. Dougherty but Woody can outright fly.
ARM - MIKE PREM - another position were there are alot of people to consider but my pick goes to Prem. Spencer only played for about 3 years and more than half of his throws ended up on Columbia Ave.
BEST PLAYER - WOODY - can run, hit and catch - sure Dougherty could hit but he was no fielder like John Wood.
BEST COACH - JIMMY DIAMOND - not too many coaches to pick from.
BEST TEAM - ANTHONY'S CAFE - the original Anthony;s teams of the 90's that won 4/5 straight - Zysk, Fox, Dixon, Sanborn , Shissler, Hepworth, Mustaro. Sure these group wasn;t the most talented of teams but they knew what it took to win!
---
ballot by Rich Dougherty
best hitter don doc
pitcher rebel
infielder don doc
outfield junior
catcher bill wilcox
arm junior
fastest runner
best player don doc
coach herky
best team happy tap 70s/80s
comments
power to all fields didnt use super bats/balls had some bad teams over the years but never gave up pitched the same if he wus winning or losing played 3rd/short 4 happytap strong arm junior speed great arm not afraid of fences played himself into one of the best you didnt run on him i didnt no comment lets race some good ones but it goes 2 don any era herky what about those happy tap teams guy did something right happy tap 70s/80s
---
Ballot by J.R.
Best Hitter - Don Dougherty - you could make a case for Werner Brand though.
Best Pitcher - the best that I faced had to be Bob McGhee. I would say Chris Smith cause that kid could hum but unfortunatly he did not play long enough. Anthony;s Cafe would have won 10 straight if he played.
Best Infielder - hands down Danny Shissler Jr. Sure some people would think Bill Gassman but Danny is without a doubt the best defensive infielder to ever play in this league. Has won games single handedly with his great glove.
Best Outfileder - wow - there are so many good ones to pick from but since you have to pick just 1, my vote goes to Jr. Barez with John Wood a VERY close 2nd.
Best Catcher - another close call here, my pick goes to Bill Wilcox. The guy is a team player, leader and a rock behind the plate. Some consideration has to go to Ed Hepworth though.
F. Runner - not to many quick people to play in the league. Tough choice but I would have to say John Wood. The toughest player to turn a D/P on.
Best Arm - there are a few people to consider here as well but Mike Prem is my choice. Had a gun and was very accurate with his throws.
Best Coach - hmmm....here is one that not too many people with think of. Dave Dougherty, coached a few of the Champion Anthony's Cafe teams then took some mediocre teams to PLayoffs and Championships before that.
Best Player - let's see, someone that defines leadership, fielding, hitting, sportsmanship? Doesn;t necessarily mean this player has to be a great Home Run hitter, the best player should be someone that is an all-around Great-Player!! So someone that fits all 4 categories: Don Dougherty. You could make a case for John Wood(lack of leadership), Danny Shissler (lack of hitting), Werner (lack of leadership), Tom Slevenski(leadership and I am sure there are a few other worth considering.
---
Ballot by #8
I DID NOT HAVE THE PLEASUER OF SEEING SOME OF THE OLDER GUYS PLAY SO SOME OF MY PICKS ARE FROM WHAT I HAVE HEARD OR SEEN:
HITTER - WERNER - heard alot about Don Dougherty but of what I have seen of Werner the guy could flat out hit.
PITCHER -
INFIELDER - it does not matter that I did not see any of the older guys play - Dan Shissler is THE BEST infielder I have seen by far and had a cannon to go along with his defense!
Outfield - easily John Wood - can cover ground better than anyone in the outfield and too had a great arm
ARM -
PLAYER - Werner - could hit, field could count on him in clutch situations at the plate.
RUNNER - Woody hands down.
BEST TEAM - could make a case for the 26-1 Crazy Leps but they did not do anything in the PLayoffs lost in the 1st round - would have to say any one of the A2 teams .
---
THE REUNION GAME COMMITTEE
WOULD LIKE TO THANK THE UMPIRES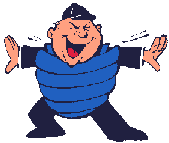 Umpires doing this game have volunteered their services:
Tommy Mc Clain
Tommy Conn
Jake Moore
Bill Sytsma.









"THANKS FOR THE MEMORIES"

There was so much nostalgia on the field June 25, 2004 That you could feel it as you walked in. All of the days and memories from long ago were back. The night started out with everyones heart in their throats as just before 6:00pm the rains came.

With the sky very dark and the forecast calling for heavy rain all night. It looked for sure that this game would not even start. You could almost hear a pin drop. It just seemed like everyone at the same time was saying a little prayer to them selfs. After about a half of hour it slowed down somewhat so the program got under way.

With a light rain still coming down everyone was thanked for their work in making this game and night possible. The players were introduced one at a time and the last time they played at hetzells and what team they played with. Then the microphone was turned over to Pastor Maggie of the Atonement Church. The pastor said a prayer for those at the game and those that have passed. After the prayer It seemed like those up there were looking down on us and asked the "The Man" to give us this one night so we could remember all of these first 49 seasons that made this night possible in the first place. And believe it or not the game was under way. The rain stopped and it did not rain again until around the end of 7th inning and when just a few drops fell.

Everyone at the game that came back to the party said that they had a great time and would never forget this night.

The score of the game was the Red team 21 ~ the Blue team 11. The game was filled with lots of fun as D.J. Dave Rotan Jr. and his color man Greg Fox kept everyone in good spirits with jokes and commentary between innings of the nine game. Despite the rain many people made their way to Hetzells. Many others that had planed to make the game was turned off by the threat of rain. We are hoping to have a box score here as soon as it is ready.


---

SURPRISE ANNOUNCEMENT 2004 HALL OF FAME INDUCTEES NAMED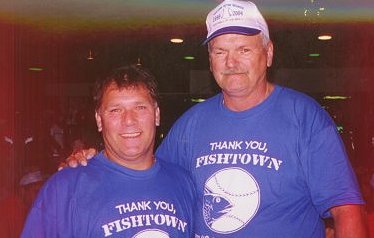 Just before the game started league Commissioner Bill Wilcox announced the names of this years Hall Of Fame inductees as Eddie Emberger one of the premiere second baseman of his time. A slashing hitter with blinding speed. That played on a number of championship teams. He played his last game for J.& T. Roofing and retired in 1995 He will be retired into the Rotan Hall Of Fame before the first game of the 2004 final series - This August and Coach Jimmy Diamond As a coach he won more championships (8) then any other coach in the history of this league. He will become the first coach ever inducted into the Rotan Hall of Fame.
BOX SCORE STATS
-------1 2 3 4 5 6 7 8 9 --- Final
Red 4 1 1 1 0 4 2 3 5 ---- 21
Blue 2 0 0 0 0 3 3 0 3 --- 11




Team AB H AVG R BB 1B 2B 3B HR
Red -- 53 - 32 .604 21 1 26 3 0 3
Blue -- 46 - 23 .500 11 3 17 5 0 0

Totals 99 55 0.556 32 4 43 8 0 3

SOME DREAMS DO COME TRUE ~~ June 27, 2004
From the first night the committee set down on January 5, 2004. You knew this was going to be very special if we could find the players and If the players could still play or wanted to play? It did not take long to fined out if they were interested for every time we found a players phone number as soon as they were told about the night and asked if they wanted to play 99% said YES immediately. I really don't know what was more fun the game or the party? They were both great but the party... well you just had to be there to see with your own eyes to believe it. But I do know this! It was so good being back with the best players that have ever played softball in Fishtown or maybe anywhere? for "Just one more Game" All of the rest is now history. I hope it was all you wished and hoped it would be when you returned to Hetzells on Friday night June 25, 2004
Thank You all for making this night happen with all the love in my heart.............Jack Moore

JUNE 25, 2004 ~ PHOTOS
We thank Kimmy Diamond for the great photos and also John Gallagher for his work in putting them on the site.......