February 23, 2003

Over The Weekend We Interviewed Anthony's II Pitcher Marc Alicea


Below his his story
1. When you were a kid you played for Fishtown A.C. what sports did you play?
Answer
I played soccer for Jerry Franklin for 4 years. Also I played baseball for 2 years with Pat Cain as coach. I played soccer and baseball for Hetzel until we made the transition to Fishtown A.C.
2. When did you first think about becoming a modified pitcher?
Answer
I first thought about being a modified pitcher when I used to come over and watch Chris Smith pitch. He was like a brother to me. He lived with me for two years when he was having problems at home. I pitched my first game in 1994 for picayune.
3. How much have you learn about the game since you started pitching?
Answer
I have learned a tremendous amount in the last five years with Anthony's. I credit that to Bob McCormick and Richie Nottis. Bob taught me how to throw a curve. Which I really seen improve in the last two years.
4. Rumors around the batting cage. Is that you are "Thin Skinned" If the other team gets on you. You'll get hot and this will throw your game right out of the window?
Answer
Well, I think I have really improved with my temper. With age I see a big change. Just this last year I thought was my best as far as blocking everyone out accept for Billy Wilcox.
5. What is up with Anthony's this year?
Answer
. My team is going to be good for a long time. The core group of guys are still in there twenties. Woody, Markley, Greg, Gil, Ryan...........The old guys are Me, Rich, Bob, Wilcox, Ray. Chris is 29 so he is not old yet...hehehehe. With this group of guys anything less than a championship is considered by us a bad season.
6. If Rich Nottis Sr. returns this season, that would give Anthony's three pitchers. Are you going to be happy maybe not pitching as much as last season. When your pitching was a big part of the Championship?
Answer
This year I welcome Richie back with open arms. I got a child on the way in April and I will not be making all the games. But as far as having three pitchers and me being on the bench, I would be lying if I said I would be happy sitting because I always want to pitch.
7. How much longer do you plan on playing?
Answer
I plan on playing like 5 more years if my arm holds up. After games my back and shoulder truly hurt. I can't pitch back to back nights like I used to, that is for sure.
8. You and your wife soon will have your first baby. Are you excited? and are you ready to get up at night and change a diaper?
Answer
I am very excited about my wife having our first child in April. But I hear the tough stories from Chris Lemma. I don't look forward to the early mornings and the diaper changes. hehehehe
9. What are Anthony's #2 chances of repeating as league champions in 2003?
Answer
Our chances of repeating are very good. We lost one player and that was Ralphie. He most likely had the best arm on the team, Gil and Ryan both have exceptional arms as well. We picked up a good utility in Keith Stratton.
10. What will be the facters needed if your team is to to repeat?
Answer
. The main factors needed for us to repeat is health. If everyone stays healthy we should have a great chance. We are very strong up the middle of the field with Gil, Chris, Woody and Markley. Markley's fielding is overlooked but he covers plenty of ground out there, it makes up for his average arm.
11. What player in the league is the hardest for you to get out?
Answer
My toughest out the past year were Cloud, Tobler Regan's and Joe Ristine Preliminary. Joe caught me for a year and he knows me well, he hits like 700 against me.
12. If Anthony's don't will the Championship this season. What team do you think will?
Answer
. I think Regans will win it if we don't. They have good pitching and hitting. There defense needs improvement but there pitching is key. Prelim also has a shot. They have a quality team and we have a terrible history against Berrilla , Prelims pitcher.
13. If you could add one new rule to the league for the coming season. What would it be?
Answer
I would have to say a shorter season.
14. You have been a part of two championships in 2000 and again in 2002. There are a lot of players never play in a championship game. What does it mean to you to be a pitcher on the Championship Team?
Answer
It is a great feeling pitching in the championship. I pitched in the last 4 championships. Losing 2 and winning 2. So I have the experience. The only thing I was disappointed in last years championship was that I was not on the mound for the last out in the championship. I started the game. I thought I pitched well. I pitched 6 innings. I thought in the 6 inning I didn't have my best stuff and I didn't want to serve up balls to regans, so I took myself out. Bob came in and closed the door and we won 5-4.

Alicea Playoff History
We do not have any records from the Championship playoff for 2000 Alicea was the pitcher that took Anthony's II to their first ever Championship.
ANTHONY'S #2 VS. REGAN'S TUESDAY AUGUST 7, 2001 8:15PM Anthony's #2 came back just like a good team should. With bats on fire they came to play. John Wood had a big night with his bat a home run and triple and his arm. Marc Alicea had the essential pitches when he needed them and had Regan's poping up on to many at bats. Anthony's 12 Regan's 8.
1. PRELIMINARY VS. ANTHONY'S #2 Tuesday August 14, 2001 ~ 7:30pm In game one it was Preliminary's pitching that carried them all night to a win. But in game two it was what got them in trouble in the very first inning. Preliminary's Starting pitcher Vince Menello walked the first three Anthony's batters then third baseman Neil Spence hit a ball off of the left field fence that cleared the bases. It was in the bottom of the fourth inning with Anthony's leading four to three when Bobby Markley hit a home run to make the score five to three. Anthony's pitcher Marc Alicea did everything right the rest of the game to get Anthony's a 6 to 3 win.
MONDAY August 12, 2002 ~ 8:15pm ~ STARBOARD SIDE VS. ANTHONY'S #2 Anthony's pitcher Marc Alicea must have wondered what was happening in the first inning. See Starboard Side was exploding hits and runs all over the place. It may just have been the teams best inning ever in the playoffs against a team like Anthony's #2 and when it was all over the score was 8 to 0. Alicea went to the bench got his head into the game and when he came out here was a different person. Anthony's did come back in this game and won 12 to 8. Alicea did not give up another run in the last six innings allowing just two hits.
Regan's Vs. Anthony's #2 ~ Tuesday August 20, 2002 ~ 7:00pm Wood hits another home run making the score Anthony's 4 to 0. Besides the score Anthony's is getting the pitching on this night by Marc Alicea he is breezing along with just a one hitter after four innings. But in the fifth Regan's starts making their move. In the bottom of the sixth inning score 4 to 4 Anthony's Greg Cunningham hits a very big home run putting Anthony's only briefly ahead in the game as Regan's quickly tied the game again in their top of the seventh and holds Anthony's in the bottom of the inning to send the game into the eighth inning. Alicea holds Regan's off the board in the eighth and go into the bottom of the inning, Second baseman Chris Nottis leading off hits a ball that clears the high fence in left field. Giving Anthony's a 6 to 5 win and a 2 to 1 lead in the best of five series. Pitching ~ Anthony's ~ Alicea IP 8 ~ Hits ~ 12 ~ 5 Runs ~ 2 WK ~ KO ~0 ~ 1 & 1 In the Series
Alicea Gets The Win In The Championship Game 2002
The 5th, and final game of the 2002 Championship Vs. Regans In this game Marc asked to be removed from the game after pitching 6 ½ innings his arm just could not go any further. Anthony's won in the ninth inning 5 to 4.
**************************************************************
I just wanted to add that Billy Wilcox is a fair man and is doing an excellent job. Also Jack you are doing a fine job with all the work you do for the league. Thanks for the interview.
Thank You Marc for taking the time to do this interview. Best wishes to you and your wife with the new baby. And good luck to you this season……
************************************************************************
Pete Boyer ~ Interview - April 19, 2004
WOULD THIS CONTROVERSIAL COACH RETURN SOMEDAY TO COACH ANOTHER TEAM?

By Jack Moore
Question
1. How many years have you coached in this league?
Answer
I started about eight years ago 1994/95 with Shane's Pub.
Question
2. Why did you leave the team this season? was there any internal problems with the players that you know of?
Answer
No real internal problems. Their all real good guys. I still go out and drink with them. No I just started to get tired. It started to be a drag with guys not showing up, biggest reason was when Tony's #2 left. You hate them when your on the field. But after the game you go back to the bar and have a beer with them their all good guys.
Question
3. When you came to the second meeting this winter did you know you where not coming back?
Answer
The thought was in the back of my head. I still did not know who was coming back and who was not? Before your next meeting I heard Davis, Zack , Chrisie and Steve Brown was for different reasons. It would be later in the season before they could play or were not going to play at all this year. I talked to Brian Gilbert we decided instead of not having players go back to the bar and leave the sponsor down. We would cash it in. After that I started to hear that there were guys that said no no we want to play. So I turned it over to Borrelli.
Question
4. What are some of the best things that happened to you in this league over the years?
Answer
That would be The Championship over Anthony's #II and the way we won it! We came out all year long and played our assess off. Another was the championship verses the Crazy Leprechaun even though we did lose the championship on my birthday. Both teams respected each other. There was no hard feelings, no animosity. We went out and played our asses off and we got beat. They deserved it. We had a real good time back at the Lep's bar when the owner Frankie Davis closed up and let everybody party.
Question
5. What are some of the worst things that happened to you over the years?
Answer
After the year we had lost the Championship to the Lep's. The other guy that had the franchise wanted it back in his name. At the meeting there was a vote and we lost. This was the night I gained so much respect for Jo Jo (Joey Zysk) I was ready to walk out of the door and say the hell with it when he grabbed me by the arm and asked what happened? I told him we lost the vote and were out. He went in there and said you guys are asses for letting this team go that has just played for the championship. I always liked Joey but after that night I had all of the respect in the world for him.
Question
6. You were the reason for so many new rules and rules being changed in this league over the years. At least you got the blamed for most of this. Mainly the bats.
Answer
My personality is to be abrasive and antagonist I like that. A lot of the rule changes I tried I thought would benefit the league? And it seems some of them to foliation. But after teams dropped out. THE BATS - Jack Guilty as Charged I'll admit it now its all water over the dame guilty as charged. I got five free bats from De Marinis and there was no way I was leaving them go. It had to be A.J. hitting a home run that Jo Jo questioned ha, ha, ha, Guilty as charged.
Question
7. In the last four years as a coach you have one of the best records in this league. from 2000 to 2003 your team won 69 season games that is a average of 17 win a season. while losing just 28 and you have a 9 and 5 record in the playoffs this is as good as any team in the league.
Answer
It the guys that we put on the field they weren't guys we swiped from other teams. Like some other team shave a propensity to do. We went out we found guys here the coach names five or six players ( don't want to misspell any names) This is why we were there every year.
Question
9. If you were to back into this league would you coach any other team but your old team? Answer I'm still going to make games when I can. I basically turned over the regains to John Borrelli because he wanted it. I hope they do have a great season I really do. They are all of my friends, we have had a great seven or eight years together.
Q What sports did you play as a kid?
A.I played one year of organized baseball when I was 12 years old. Other than that I would just play things in the neighborhood like hockey, stickball, football, etc.
Q How old were you when you started playing softball?.
A. I was 20 when I started to play Arc softball. I was 22 when I played my first modified game.
Q How many years have you been playing softball?
A. I have been playing Arc softball for 8 years and modified for 6 years.
Q Where did you go to school? and did you play baseball?
A. I went to George Washington High School from 90 – 94 and played football and baseball. I then when to LaSalle University (after a quick pit stop AT CCP) on a baseball scholarship as a pitcher.
Q You seem like a set back quiet kind of guy. Is that the way you have always been? or do you keep everything inside?
A. I am not real quiet I just don't scream and yell. I like to just play the best I can and let my ability do the talking for me. I try to get my teammates pumped up sometimes, but I rather just watch the game and try to find ways to improve.
Q Not many people have had the chance to see much of you this season because your team played a lot of late games. But the last ten days in the play offs you have been the talk of Fishtown. And you have been compared with some of the best home run hitters that have ever played in this league with the likes of Donald Dougherty, Werner Brand and Tommy Slevenski after just one season. What do you think about all of this?
A. I am flattered by the comparisons to these great players, however lets not get carried away. I did play well in the playoffs, but there is something to be said of consistent play. I am sure that these players you mentioned year in and year out preformed to high levels. If I am to be compared to them I must do the same thing year in and year out. I think it is a bit unfair to put me in that category with just one year under my belt.
Q. This is your first year in our league. You have played in other leagues. How do you compare this league with others?
A. I really like playing in Fishtown. The people are very friendly to me and have made me feel at home. There is something to be said about this neighborhood league. The excitement and bragging rights are a great incentive to play hard with determination and tenacity. I think that the league has many great players, and a lot of new up incoming talent. This league can flourish if there would be some people to teach these young players the fundamentals of the game. There is a great core of ballplayers, and the energy and excitement are definitely in place at hetzels. I know that the modified softball is struggling nowadays, just ask the teams up at Pollack where I have been playing for the last 5 years, but that doesn't mean it has to die. There are some great experienced players down here that could really teach some of these guys some things. If you get the right combination of player and coach I think the league will become even better.
Q You were just named M.V.P. of the 2004 playoff this is an outstanding award to win not many players have ever won this kind of award. What did this mean to you? and is this your first M.V.P.?
A. I am very grateful to all those who felt I deserved this award. I could not have done it with out my teammates. I can' t really take any credit for this award. It is my first MVP in any sport I have played. I have received all public distinctions in football and baseball but never an MVP.
Q Over all you must be very happy playing on the Championship team in your first season here in Fishtown?
A. I am thrilled that I could be a part of this championship team. I really enjoyed my time this year. We have a good chemistry on this team.
Q Are we going to have the opportunity of watching you play here for a few years.( If the league continues?)
A. Without question I will be playing down here.
I really hope that people who care about this special league take an active part in making it better. It is easy to criticize the players, teams, and the league for not being as good as years past, but it is a special person who will take it upon himself and be an active part of the rebuilding process. It may not happen overnight, but it can happen without question. I like this league and hope to play for a long time down here.
Thank you Jack
---
THIS
COMMISSIONER KNOWS HE GAVE 110%
An Interview with Bill Wilcox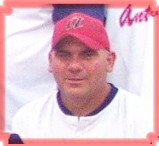 By Jack Moore
March 21, 2005
1. Bill did you play any sports in school?
A.
Yes I played baseball and football two years at Mastbaum high school
2. You did start getting contacted with the Fishtown Mens Softball League at the age of 15. Tell us a little about what were you doing back then?
A.
As a kid I would go over to Hetzells every night back then it was a big thing to go and watch the games. There was not even a fence down the first base line. At that time it was also a big thing to be a "Bat Boy" so that is how I got started in the league. There must have been 20 teams in the league at that time. My first team was the Damm Yankees as a fill in player not a starter. The second year I was setting on Newt's wall and Tommy Thomson came over to me and asked me if I was playing for anybody? I said no at that point he asked Bobby Dunbar who was coaching a team and that was how I got to know Don Dougherty Bobby Mc Gee Eddie Emberger and Tommy Slevenski. I started on that team when I was about 16 or 17 years old. I had another year of high school left when I started playing with them guys.
3. Dave Rotan died in 1996 Jack Moore took over the league for the remainder of 96 season. Then out of a clear blue sky he asked you if you would consider taking over the league? This was a very big task. And something you had never even thought of doing. This must have been a real shocker when he said take a few days and think about it.. Where would you start and how do you run a softball league? What were you thinking about when he asked you?
A.
I remember I was at a meeting right after Dave died and you were telling everyone that you could not handle running the league by yourself and I thought that someone being in the league a lot longer then me was going to step up and come forward. You then said if you could not get any help the league was going to fold. Being in the league since I was 16 years old and did not want it to go under. I stood up and said "I will do it" What was running in my mind at the time. Not to much because I did not know what it consisted of. My first year I was a little timid because I left people,.. lets not say walk all over me. But I left people get away more then I know. Then when I realized that if I was going to run this league right I had to hurt some feelings along the way. I did not want to do that but being the commissioner you can't make everybody happy if your going to run the league the right way. At the time you asked me I did not know all of the details but I learned each day as I went on.
4. If you did take over the league would you have to give up playing? Something you really wanted to continue doing.. And what would the other teams think of you playing in the league and making the decisions that might involve their teams?
A.
OK well this is one thing I can really be proud of myself. Because I have probably suspended more of my own team then I suspended anybody in the league. As far as me showing favoritism I know in my heart I have never done that. I know I have been accused of it people say I have gotten favoritism from the umpires and that is not true. But I know for a fact that I have ran it without cheating without ever going to a umpire and saying anything to him.
I have treated everyone a like. I have never let anyone get away with anything. I have talked to them after each incident. Then do what I know I have to do as a player and a commissioner.
When I first took over the job like I said I did not want to stop playing because that is how much I love playing in the Hetzell league and I know in my heart I could be a good commissioner and be a player at the same time.
5. What was it like... That first year as commissioner taking on all of the work and responsibilities?
A.
Well it really did not bother me because I loved playing the game. And I loved doing it for the players. It was not just for me but for a lot of other people that loved softball. For the guys like Donald Dougherty, Bobby Mc Gee, Eddie Emberger, and Tommy Slevenski these players I will never forget.
6. Over the last ten seasons you had to make some very tough decisions when the rules of the league were broken. Many have been suspending players and umpires for many different infractions. This must have been the hardest thing you ever had to do in you life? Telling a player, coach or umpire that he had been suspended.
A.
Yes sure it was always very hard to suspend a guy because you think that guy is your friend. And in the heat of a moment in a game people say things that they don't really mean. You know in your heart at that moment people do things and say things that they should not say. But then you have to do your job they can't keep doing it and if not handled the right way things will just get worse.
I was suspended myself by Dave Rotan one or two times. You just can't leave anyone abuse the league or a umpire weather right or wrong he is human and is there to work a game then go home to his family calling him names and all of that stuff is wrong.
7. The loss of your Dad. in 2000. Worrying about your Mom and the family . That had to be really tough on you? But there was still the league and the field and the umpires and everything still had to go on. How did you work all of these things out? In such a dreadful time of your life?
A.
Well you know you have to keep going on. The loss of my Dad was a tragedy to me because of the way it happened, you know he was not supposed to go at that time but God took him. My Mom took it very badly I had to make sure that I was always there for her. I had to work every day then I would go over and do the field. Then I would go check on my Mom if I had a game that night I would play then call her again to see if everything was OK?
It has been five years now since my Dad passed and my Mom is doing really good.
8. You have given your all for ten seasons and there are people that think you have made the league better and done a great job as with the leagues commissioner. Now you have said that this the 50th season will be your last season running the league. Do you really mean it? Or is there a chance you may change your mind?
A.
1. That is a good question again. You know what I said it because times have changed a lot. And some things have been said I can't handle I feel people don't appreciate what you do today. Maybe. there is a possibility that I could again You don't know what is going to happen this year. Right now in my heart I am saying that this is it.
I do not regret anything I have done in the last ten years.. I know that have given 110% There were times I did not even get to see my kids ball games because I had to clean the field at Hetzells. There is a lot of things that people don't know. And there are people that really don't care or appreciate it.
I do it because if there are 500 people in the league 480 of them do care. Most of them come up to me and say you did a great job on the field tonight. That means a lot to me at least they appreciate it. I am probably the only commissioner ever to run a league and not make a dime . My reason is because I love Hetzells, the players and I love being a part of the league.
2. How hard is it going to be on you just to walk away?
A.
Very hard I love softball so much I have been playing since I was with the 26th Pal. I love being around these guys and the partying. It is really going to hurt.
3. What is your life going to be like without softball in it?
A.
I really don't have a answer for that. The first year I will think about it all of the time. But when I was younger if I missed a game it would eat me away. Now if I miss a game it don't bother me as much as 20 years ago. But I would say it is going to be really tough.
4. Will you still play? Or is this it?
A.
No if I leave the Commissioner I will leave the game.
Note: Before Bill took over the league he asked me if I would stay with him? I promised him that I would be with him as long as he needed me . If he would take over the commissioners title. Personally I have worked with Bill the entire ten years of his running the league and I feel that he has been as fair as any man could have been dishing out the suspensions. And his love for this league has been the driving force of excellence in making the league the best there was in the City. There have been a lot of commissioners over 49 years that have worked to make this league the best anywhere. But this one has gone the extra mile in everything he has done over his ten years and made it number one. I don't think no one has ever done it better...................... Thanks Bill for a truly fabulous job. It had been my pleasure being with you these ten seasons. Jack Moore
No one knows just how thankless of a job this really is. Running a neighborhood softball league and having to put up with all of the shit that any body feels like throwing at you. How many nights you go home and think why do I do this?
---