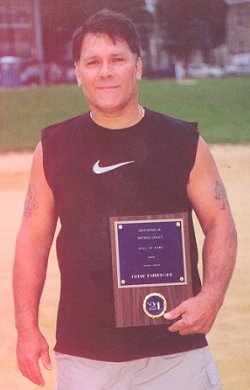 Edward "Eddie" Emberger #21
May 14, 1953





MEMBER OF THE HALL OF FAME
SINCE 2004



Eddie played as a kid for Fishtown A.C. and attended Northeast Catholic High School were he played baseball and football.........

Ed Emberger was one of the premiere second baseman of his time. A slashing hitter with blinding speed made him the prefect lead off man. During his years he played on a number of championship teams. His 21 years playing in the Fishtown League is also some of the longest any player has played. Eddie was always one of the most popular players in the league.

He played his last game for J.& T. Roofing and retired from softball in 1995. But was a part of the "Thank You Fishtown Re-Union" game played on June 25, 2004



His number #21 Was retired on August 10, 2004 to the Dave Rotan Hall Of Fame.