DAVE ROTAN SR.
SOFTBALL HALL OF FAME













TOMMY SLEVENSKI "It's an honor to be put into the same category as these guys,"

Slevenski inducted into Rotan Softball Hall of Fame
by Debbie Szumowski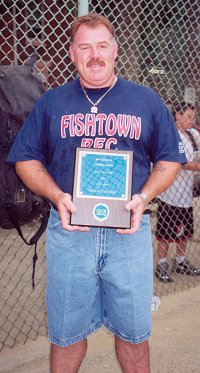 Tommy Slevenski became the 14th inductee into the Rotan Men's Softball League Hall of Fame this past Friday. Hetzell Playground in Fishtown isn't exactly Cooperstown, but one would have never known it. Fans crowded the sidelines to cheer and former Hall of Famers gathered on the mound to help welcome Tommy into their realm.

Tommy's wife Lisa and his mother Mary, who never missed one of his games, were there for the occasion. "I used to tell him he'd be [in the Hall of Fame]," said Lisa. And on Friday night, her prediction became a reality.

"It's a great honor for me to induct people into the Hall of Fame," said league commissioner Bill Wilcox. And it was an even greater honor for him to welcome his friend and former league member, Slevenski, into the Hall of Fame. Wilcox said Slevenski was "something special" to watch in modified softball. "When he got hold of the ball, you knew it was gone," said Wilcox. Other Hall of Famers shared similar memories of Slevenski's days as a player in the men's softball league.

"I always hated to see him come to bat," admitted Donald Dougherty. "He could cream the ball," explained Jim Strunk. But it was more than his hitting the ball that got Tommy inducted into the Hall of Fame. His wife put it best.

"He could always hit the home runs and he was always a good sport," she said. "Tommy Slevenski's name was easy to talk about [for induction into the Hall of Fame]," said Jack Moore, who maintains the league's website and is the league's unofficial historian. "He was a good player and very popular in the league. He has always been one of the most respected players in the league because he has always been a gentleman."

"Tommy put a lot into this league," added Dougherty. "He really deserves [being inducted]."
"I don't even know where to begin to say how much of an impact Tommy Slevenski has had on my life," current league player Chris Lemma wrote in a tribute on the Rotan website. "I was a fan of Tommy's before he even knew who I was," continued Lemma. "How could you not look up to someone who dominated the game and would never speak brashly about it?" Eventually, Lemma got to play on the same team as Slevenski. He said it was an experience he'll never forget.

Tommy started playing in the men's softball league when he was 15, around 1976. "We all played on the street," he recalled. "Tommy Thomson came around and asked us to get into the league." Slevenski got into the league and stayed in it over 20 years till 1999. "I just liked playing," he said. "It was fun, and I was always around a good bunch of guys." But life threw curve balls his way and Tommy decided it was time to hang up his cleats and retire.

Strunk thought Slevenski retired just a little too young, though. He was just 37. Strunk quit the league when he was in his 50s. "I still miss it a little," admitted Slevenski Friday night as he watched players getting ready for a game.

But hitting all the home runs and playing in all the championships in the world couldn't compare to Friday night's induction. "It's an honor to be put into the same category as these guys," said Slevenski of his former teammates and opponents. Some, like Strunk, Dougherty and Bob McGee, came out to see his induction. Others, like Jimo Fox, Rich Farley, Bill Gassman Sr. and the league's namesake, Dave Rotan Sr., were surely watching from bleachers up above.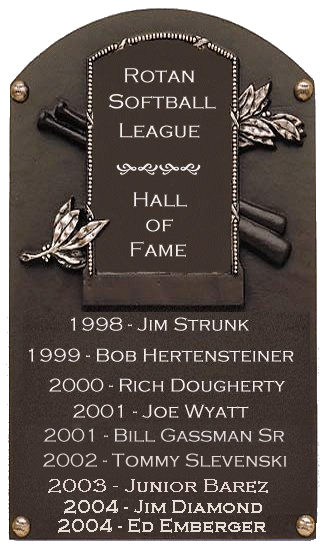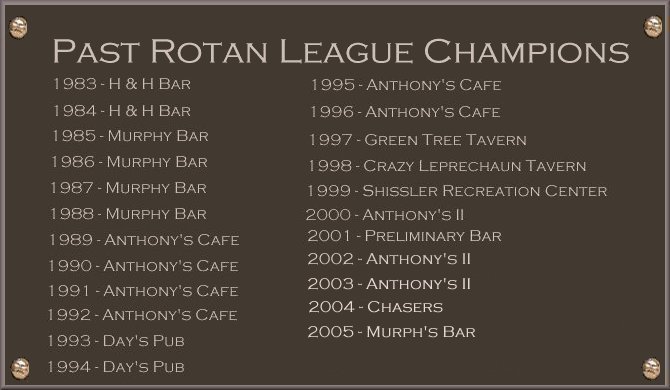 TO THE MEMBERS OR FAMILIES OF OUR "HALL OF FAME"
WE NEED YOUR HELP

We are undertaking a big project and we need your help. We would like to put a photo of each one of our members of the Rotan Hall Of Fame on this page. With a little background of the years that they played and the year that they retired from softball. Would you like to help us do this. We Need a photo of the member. If you can help us please send the photo to: Rotan Hall Of Fame - Photo
2559 East Dauphin Street
Philadelphia Penna. 19125
Or E-Mail Us




E-MAIL




And Thank You for your help in this matter.

1993 David Bopper Neary - NEED
1993 Thomas Porky Gallagher - NEED
1994 Tommy Thomson - NEED
1995 Richard Farley - NEED

Still need photo -NEED




49 YEARS AND COUNTING


Click the ball to return to the front page.